Music Has Healing Power
Shriners Children's – Southern California
2022 Best Partner Organization Award
We are excited to announce that Music Has Healing Power has been chosen to receive the 2022 Shriners Children's – Southern California Best Partner Organization Award
!
To commemorate the momentous occasion of Shriners Children's Hospital 100th year of love and care for children, Shriners will be hosting the The Fezzy Awards on June 18th, 2022 @ 6PM PDT at the Segerstrom Shelby Center in Irvine, CA, as a way to acknowledge the amazing work that is being done in conjunction with their own.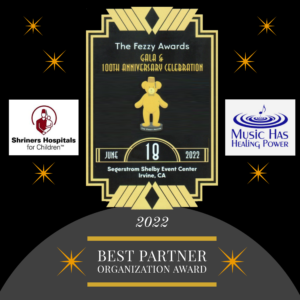 We are so grateful and look forward to accepting this award, as well as continuing our partnership with Shriners Children's. This recognition simply strengthens our resolve to ensure that the healing power of music is extended to all those that are in need of it.
Read more…
Shriners Children's Music Rooms
June 15th, 2022

We are excited to announce that we officially have two new dedicated MHHP music rooms at Shriners Children – Southern California! We have provided instruments for both rooms and are absolutely thrilled to be partnering with Shriners on this amazing accomplishment.

One room has been completed and is ready to be used, while the second and main music room/studio starts construction right away and will be completed in 2022. In these moments of progress, it is always the most rewarding to think of the children that will reap the benefits, experiencing joy and the wonderful healing power of music.

Our achievements and endeavors are made possible by your kind support. We hope you will consider supporting Music Has Healing Power, a 501(c)(3) organization.
Music Has Healing Power Donations
June 10th, 2022

During 2021 and 2022, Music Has Healing Power has provided music instruments including guitars, percussion instruments and more to 15 additional Shriners Hospitals for Children music rooms. 13 Shriners in the US and 2 Shriners in Mexico.
Our achievements and endeavors are made possible by your kind support. We hope you will consider supporting Music Has Healing Power, a 501(c)(3) organization. https://www.musichashealingpower.org/donate
Pics:
1 – Chicago Shriners 2 – Mexico City Shriners 3 – Mexico City Shriners 4 – So. California Shriners 5 – Bruce Lowe, Founder of MHHP
Instruments donated by Music Has Healing Power